Bigger Glass, Better View
FSG Big Insulating Glass    – Up to 3000mm x 15000mm (120″ x 600″)
Insulated Glass combines two or more glass panes that are spaced apart and sealed with a sealant to appear as a single unit. Also called double glazing, IGUs are designed to reduce heat loss and solar heat gain entering the building, while reducing visible light transmittance. Hence they improve the thermal performance, and reduce energy costs. They can be fabricated to meet sound control requirements, seismic requirements, bullet resistance, hurricane and blast resistance requirements, impact resistance and state energy codes. By combining laminated glass products, tinted glass, Low-E coatings, reflective coatings, silk-screened patterns, etc., a wide variety of insulating glass configurations can be made available to meet diverse aesthetic and performance needs.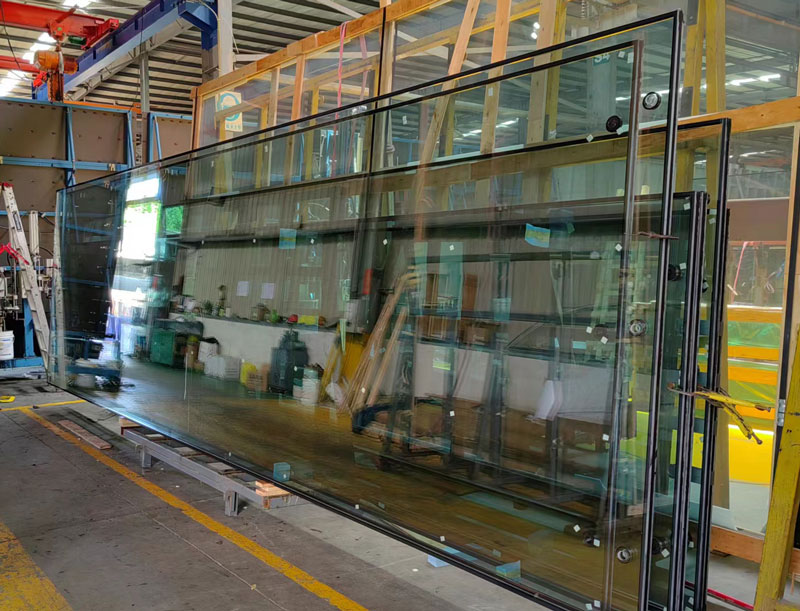 15mm low iron + 12A + 15mm low iron
FSG Big Low-E Glass – we provide three types of Low-E glass options to meet the designer's requirements.
Hard Coated Low-E
Hard coated low-E coating,also named as online low-E,or pyrolytic coated low-E.On-line Low-E glass is a functional film with low radiation performance on the surface of the glass ribbon on the float line by chemical vapor deposition and special materials on the float glass production line.
The biggest advantage of hard coated low-E, is it's hard and no chemical reaction when exposed in the air,the coatings can be used in single glazing.
The emissivity is about 0.15,which is much higher than soft coated low-E coatings,so glass made with hard coated low-E has higher U value.
The first generation coating with one silver layer inside the coating.U value is about 1.8W/m2.K,SC varies from 0.3-0.7. It has been widely used in various buildings-Glass curtain wall,glass spandrel,etc.
Features
a.Visible light transmittance— adequate indoor natural day lighting.
b.Solar energy transmittance — a wide range of shading coefficient available.
c.High far infrared reflectance — low U-value, reduced thermal transfer due to temperature difference.
Two silver layers inside the coating. While maintaining the same visible light transmittance, it has lower shading coefficient than single silver Low-E. It filters the sunshine as a cool lighting source and provides a solution to energy efficiency in design of high transparency.
Features:
a. Higher visible light transmittance — ensuring better natural lighting
b. Extremely low solar heat transmittance — effectively impeding SHGC.
FSG Big Combined IGU – Multiple layer insoluted glass.
Along with the fast developing of new building technology and innovations,  and the rapid threading of Green Building and green life concept,  the building's energy saving factor is more and more required when a new project is scheduled.
Despit Low-E IGU, multiple layer combined IGU is required as well, to upgrade the energy saving factor and effect a higher safety.
FSG Shaped IGU
However, the irregular shaped insoluting glass is sometime needed in distinct complex special designings.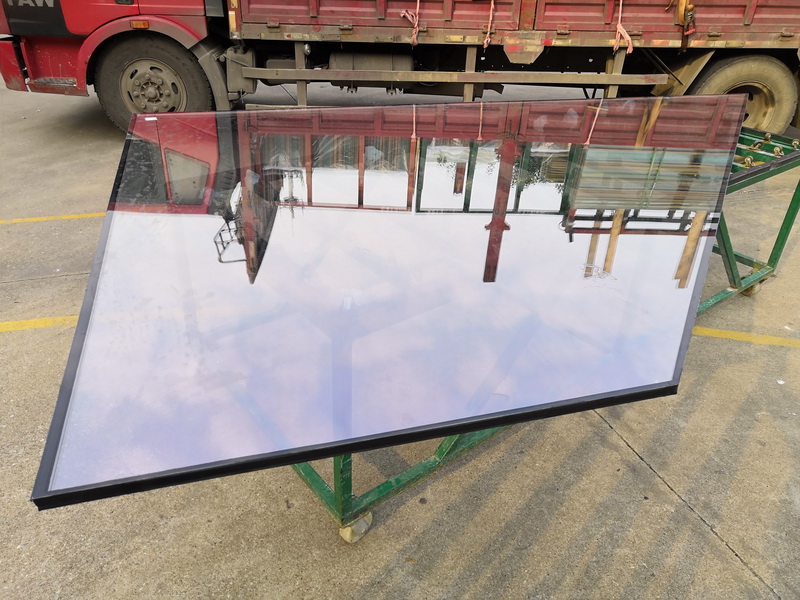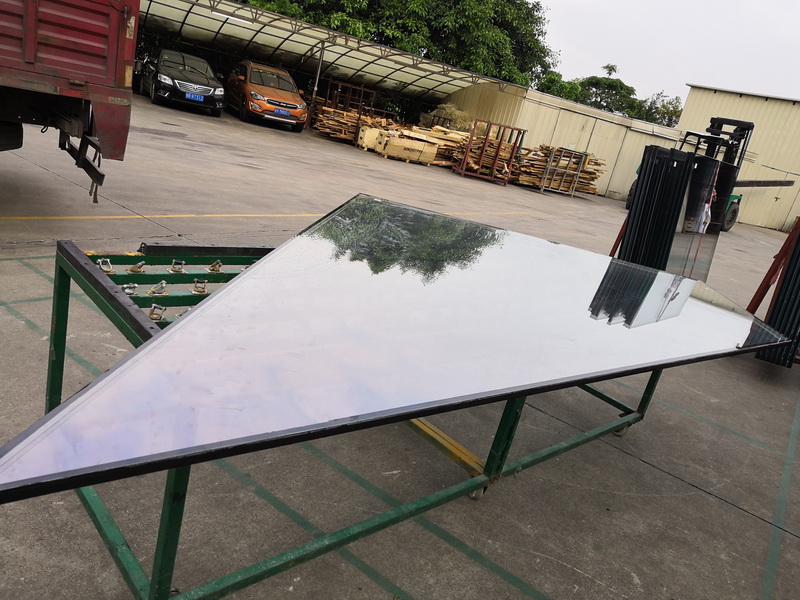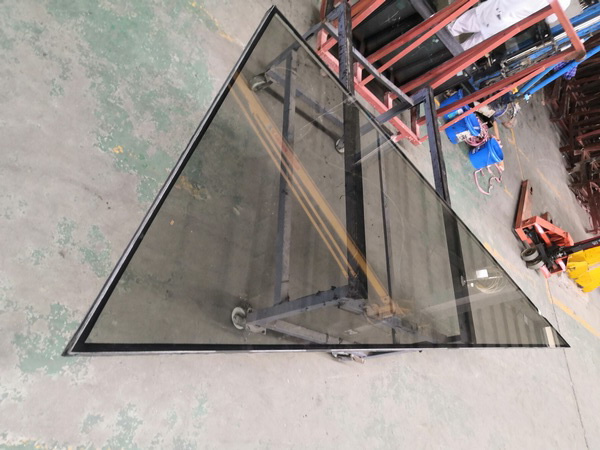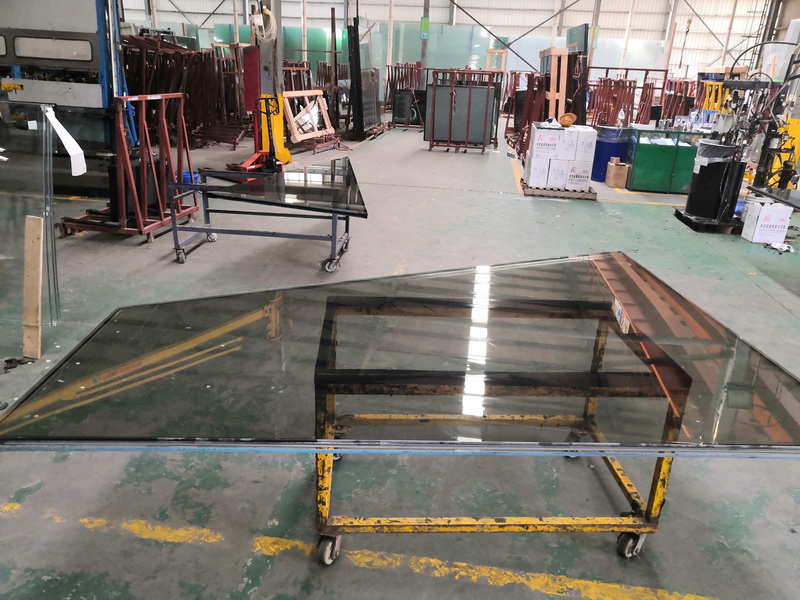 FSG IGU – Components and Enhancements
To ensure the long lifetime and good thermal insulation performance, the edges must be sealed strictly to keep the space between glass panels. FSG insulating glass spacers are available in two colors, three materials and a variety of thicknesses.
Aluminium Spacer: Traditional spacers used in the IGU are aluminium. It has been available for decades and provides a basic level of performance.
Stainless Steel Spacer: Stainless steel is less conductive than aluminum and has one-tenth the thermal conductivity of aluminum. What's more, stainless steel spacer can't be bent, must be jointed by steel connector.
Warm-edge Spacer: It composes metal and plastic or rubber materials. The main brands are Alupro, Technoform, Fenzi, Lisec.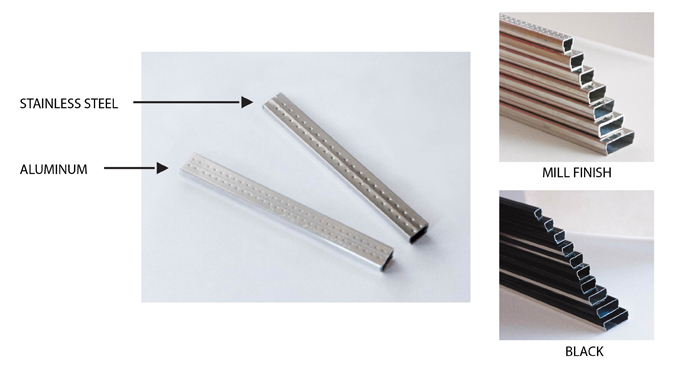 Space Color choices include black or silver mill finish depending on the spacer type. Black spacers are being specified more often today, as designers prefer the clean look this option provides. The color black tends to blend with the gaskets and framing which minimizes the overall visual impact by leading occupants to look through the glass rather than at the framing or spacer. The color of the spacer does not affect the solar performance of the insulating glass.
The thickness of the spacer will determine the distance, or space, between the two glass plies in an insulating unit. Even a minimal change in the thickness of the spacer can affect solar performance so it is important to include the thickness in a specification.
Argon
Argon is one kind of inert gas. Compared with air, argon filled IGU can:
Keep a better pressure balance,  reduce the IGU bursting risk.
Increase thermal property, reduce around 0.2-0.3W/M2.K on U value.
Prolong IGU body lifetime, prolong the desiccant lifetime inside of the spacer.
Protect the low-E coating film. Decrease the film oxidation rate.
Slowdown the heat convection process, improve the sound insulating and noise reducing effection.
Important Note:
When specifying insulating glass with argon, it is important to also consider the thickness of the space. Increasing the thickness does not necessarily improve the thermal performance. There is an optimal thickness where each gas achieves the best performance. The optimal thickness for argon is 12mm, 1/2".
Round holes are also available applied on IGU, which may be requested on point supported glass facade installation. The holes are perforated on all glass plies related in IGU and sealed with an aluminium O-ring for a better installation.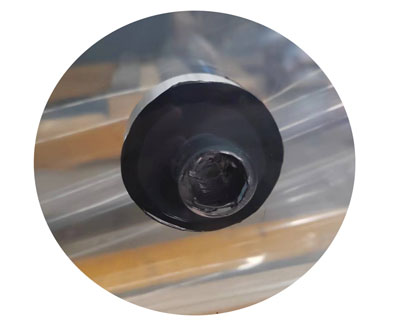 Joing Over
500,000 Students
Enjoying Avada Education now
Become Part of Avada University to Further Your Career.